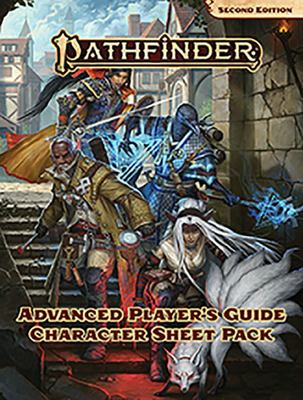 $32.00
AUD
Category: Accessories
Advance your character with the Advanced Player's Guide Character Sheet Pack Track your hero's statistics and accomplishments with these full-color character sheets designed to include exactly what your character needs This product comes in a sturdy folder to store character sheets, with reference inf ormation such as game actions, a summary of crucial conditions, and death and dying rules. Inside are 16 sheets for characters and campaign tracking. These include specialized character sheets for each of the four classes from the Advanced Player's Guide, with class features and special actions already filled in Plus you'll find sheets for the evil champions and for oracle spells and curses from that book. Furthermore, there are three standard blank sheets suitable for characters of any class, an alternate sheet with a simplified design, and expanded sheets to track character inventory, campaign notes, adventure logs, NPCs, spells, animal companions, and alchemy books. ...Show more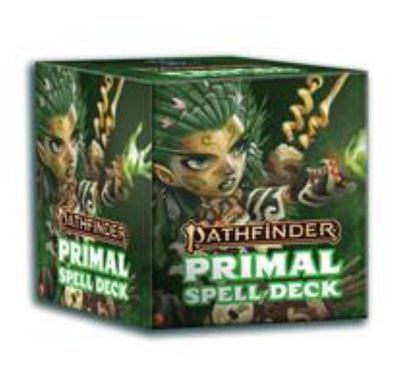 $49.99
AUD
Category: Accessories
Unleash the fury of the natural world with Pathfinder Spell Cards This must-have accessory for primal spellcasters contains more than 175 spell reference cards, covering every primal spell in the Pathfinder Core Rulebook, giving players immediate access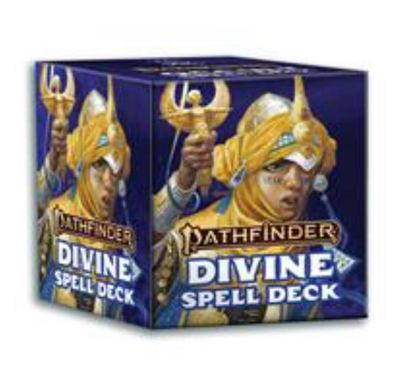 $54.00
AUD
Category: Accessories
Call down the glory of the gods with Pathfinder Spell Cards This must-have accessory for divine spellcasters contains more than 150 spell reference cards, covering every divine spell in the Pathfinder Core Rulebook, giving players immediate access to key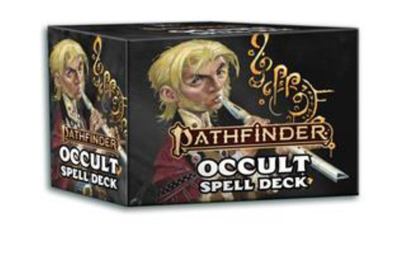 $69.99
AUD
Category: Accessories
Your hero knows the mysterious secrets of the multiverse, so how come you're always flipping through the rulebook when it comes time to cast a spell? This invaluable set of Pathfinder Spell Cards contains more than 200 spell reference cards for every occu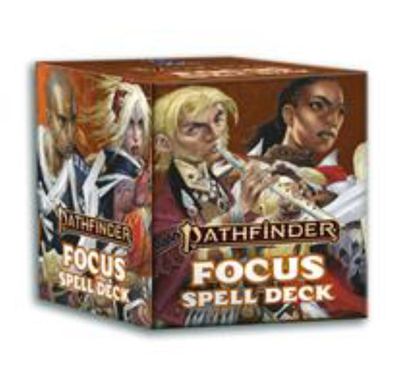 $54.00
AUD
Category: Accessories
Get the most out of your inner magical power with Pathfinder Spell Cards This must-have accessory for focus spellcasters contains more than 150 spell reference cards, covering every focus spell in the Pathfinder Core Rulebook, giving players immediate ac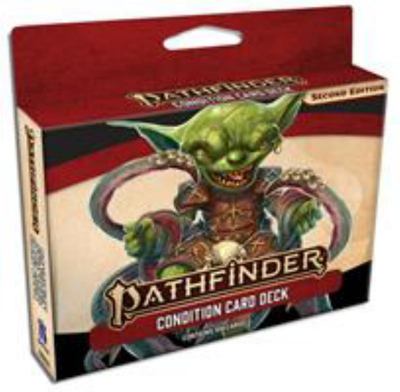 $51.99
AUD
Category: Accessories
Never miss a modifier again With the Pathfinder Condition Card Deck, it's easy for players and GMs to keep track of the Second Edition Pathfinder RPG's most common conditions. Are you sickened by a cloud of poisonous gas? Is your wizard invisible? Is the
$27.99
AUD
Category: Accessories | Series: Dungeons & Dragons Ser.
From the writers of Dungeons & Dragons, this officially licensed journal with 365 writing prompts is the essential new tool both Dungeon Masters and players of all levels will enjoy using. This journal is your key to unlocking the backstories of your heroes, the motives of your villains, and the sur prises that are hidden within the campaign narrative, helping you build a strong foundation for your next game night. Whether you're new to D&D or a seasoned player, these questions will help you create new realms you never before imagined. ...Show more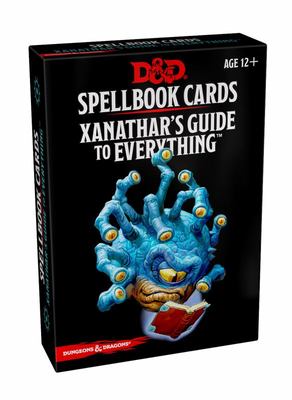 $32.00
AUD
Category: Accessories | Series: Dungeons & Dragons Ser.
Hurl Spells Faster than Ever Before with this Invaluable Accessory from Wizards of the Coast and GaleForce 9 The Spellbook cards are an invaluable resource for both players and Dungeon Masters. With these spell details at their fingertips, they can save time, keep the action up, and avoid stalling the g ame by flipping through books. Each deck contains laminated cards that players and Dungeon Masters can use as a quick reference resource during Dungeon & Dragons tabletop play. There are currently eight decks (each sold separately): Arcane Spell Deck (For any class that utilizes arcane cantrips and spells like wizards and sorcerers), Bard Spell Deck, Cleric Spell Deck, Druid Spell Deck, Paladin Spell Deck, Martial Powers & Races Deck (Includes spell-like racial abilities, Monk and Barbarian spell-like abilities, and fighter maneuvers), Ranger Spell Deck, Xanathar's Guide to Everything Spell Deck (Contains spells found in the D&D supplement, Xanathar's Guide to Everything) ...Show more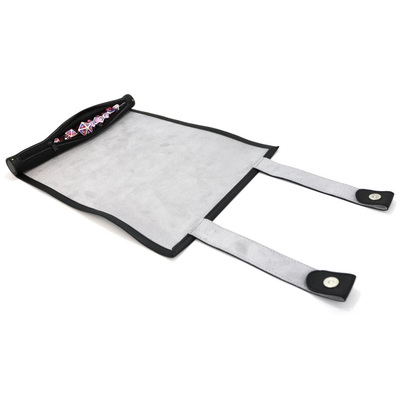 $56.99
AUD
Category: Accessories
Introducing our new Scroll of Rolling, a portable hybrid of a rolling tray and dice storage in one snazzy package. The zippered pouch can hold 2 full 7-piece dice sets, and comes with a removable foam to help keep your dice padded and cozy. When not in use, the scroll is rolled up and secured with two s traps, ready to await your next adventure!• A dice rolling mat that can store a line of dice too!• Sturdy PU leather• Looks like a magic scroll when rolled up.MEASUREMENTSWhen rolled up, the scroll of rolling is a 10" x 2" diameter cylinder. When unraveled, the rolling surface is 10" x 13" ...Show more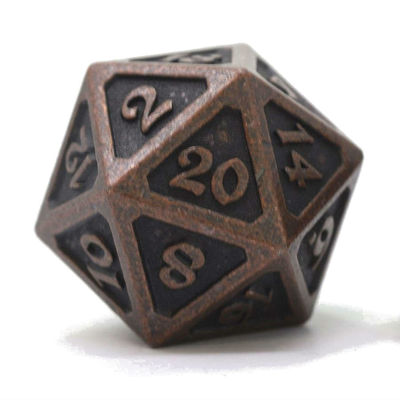 $30.00
AUD
Category: Accessories
Dire d20s are a larger, 25mm version of Mythica d20s. All the beauty of the Mythica line, just bigger!Features: - Tastefully oversized for a excellent heft, and and authoritative feel when rolling- Solid metal dice, die-cast non-toxic Zinc alloy- Electroplated with a Dark Copper finish- Raw and unpaint ed, as the Maker intended ...Show more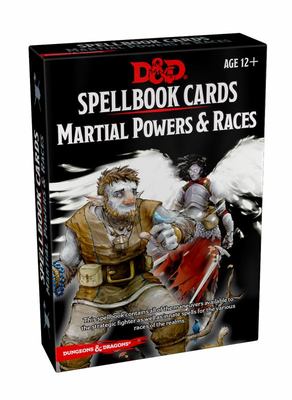 $19.99
AUD
Category: Accessories | Series: Dungeons & Dragons Ser.
Hurl Spells Faster than Ever Before with this Invaluable Accessory from Wizards of the Coast and GaleForce 9 The Spellbook cards are an invaluable resource for both players and Dungeon Masters. With these spell details at their fingertips, they can save time, keep the action up, and avoid stalling the g ame by flipping through books. Each deck contains laminated cards that players and Dungeon Masters can use as a quick reference resource during Dungeon & Dragons tabletop play. There are currently eight decks (each sold separately): Arcane Spell Deck (For any class that utilizes arcane cantrips and spells like wizards and sorcerers), Bard Spell Deck, Cleric Spell Deck, Druid Spell Deck, Paladin Spell Deck, Martial Powers & Races Deck (Includes spell-like racial abilities, Monk and Barbarian spell-like abilities, and fighter maneuvers), Ranger Spell Deck, Xanathar's Guide to Everything Spell Deck (Contains spells found in the D&D supplement, Xanathar's Guide to Everything) ...Show more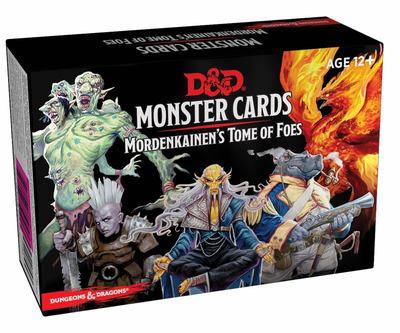 $49.99
AUD
Category: Accessories
The perfect tool to help Dungeon Masters manage their monsters during play. These 109 durable, laminated cards represent a range of deadly beasts from the Dungeons & Dragons supplemental book, Mordenkainen's Tome of Foes, complete with stats and illustrations. From the allip's armor class to the ya gnoloth's damage immunities, monster cards let DMs select, organize, and access the information they need to help keep encounters running smoothly, without flipping through the books. - Color illustrations bring battles to life without revealing the monster's rules text - An evergreen accessory useful for all fifth edition Dungeons & Dragons tabletop gameplay - An invaluable resource for EVERY Dungeon Master ...Show more