$14.99
AUD
Category: Children's Books | Series: Beast Quest: Space Wars
Join Harry and Ava as they battle space monsters, in a thrilling new adventure series that's out of this world! Harry and Ava are two ordinary kids doing their best to survive life on a massive space station, Vantia1, after their home planet was swallowed by a mysterious black hole known as the Void. A va is training to be a fighter pilot, while Harry uses his talent for engineering to invent amazing gadgets that help him solve any problem standing in his way. And now Vantia1 is facing a crisis. When they intercept a secret message and discover that a mysterious and unidentified object is about to attack their home, Harry and Ava realise that only they can tackle the evil mastermind responsible. Venture into a whole new dimension as two young heroes discover their destiny, and experience the awesome power of Beast Quest as never before! Look out for book 2: Monster from the Void - coming in October 2021 ...Show more
$34.99
AUD
Category: Children's Books | Series: Winnie-the-Pooh
Rediscover A.A. Milne's delightful tales in this classic story collection containing both Winnie-the-Pooh and The House at Pooh Corner.The adventures of Pooh, Christopher Robin and all their friends in the Hundred Acre Wood are brought to life in this beautiful edition containing E.H. Shepard's original line illustrations. Meet the best bear in all the world for the first time in Winnie-the-Pooh, where he gets into a tight place, nearly catches a Woozle and heads off on an 'expotition' to the North Pole with the other animals. The adventures continue in The House at Pooh Corner, where Pooh meets the irrepressible Tigger for the first time, learns to play Poohsticks and sets a trap for a Heffalump.Heart-warming and funny, Milne's masterpiece reflects the power of a child's imagination like no other story before or since. The Winnie-the-Pooh stories are timeless children's classics.Do you own all the classic Pooh titles?Winnie-the-PoohThe House at Pooh CornerWhen We Were Very YoungNow We Are SixReturn to the Hundred Acre WoodThe Best Bear in all the World ...Show more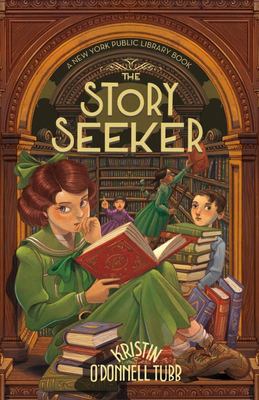 $16.99
AUD
Category: Children's Books | Series: The\Story Collector Ser.
Inspired by the true story of a girl who lived in the library, Kristen O'Donnell Tubb'sThe Story Seeker continues The Story Collector series with a heartwarming middle grade mystery that captures the illustrious New York Public Library during the roaring 20's. Twelve-year-old Viviani Fedeler, proud res ident of the New York Public Library, has her sights set on becoming a star reporter. She's thrilled when Miss Hutch announces a story contest where the winner gets their essay printed in the New York Times! But then Viviani gets her first-ever case of writer's block. As she struggles to find inspiration, the library is hit with a strange mystery involving overdue books, secret messages, and perhaps a spy lurking among the shelves...Will Viviani be able to crack the codeandfind the perfect story worthy of a byline? ...Show more
$29.99
AUD
Category: Children's Books
Meg Lowman was always fascinated by the natural world above her head. The colors, the branches, and, most of all, the leaves and mysterious organisms living there. As a scientist, Meg set out to climb up and investigate the rain forest tree canopies-and to be the first scientist to do so. But she encoun tered challenge after challenge. Male teachers would not let her into their classrooms, the high canopy was difficult to get to, and worst of all, people were logging and clearing the forests. Meg never gave up or gave in. She studied, invented, and persevered, not only creating a future for herself as a scientist, but making sure that the rainforests had a future as well. Working closely with Meg Lowman, author Heather Lang and artist Jana Christy beautifully capture Meg's world in the treetops. ...Show more
$16.99
AUD
Category: Children's Books
An Aboriginal ceremony of Welcome to Country is depicted for the first time in a stunning board book from two Indigenous Australians. Welcome to the lands of the Wurundjeri people. The people are part of the land, and the land is a part of them. Aboriginal communities across Australia have boundaries th at are defined by mountain ranges and waterways. Traditionally, to cross these boundaries, permission is required. Each community has its own way of greeting, but the practice shares a common name: a Welcome to Country. Aunty Joy Murphy Wandin, the senior Aboriginal elder of the Wurundjeri people, channels her passion for storytelling into a remarkable and utterly unique picture book that invites readers to discover some of the history and traditions of her people. Indigenous artist Lisa Kennedy gives the Wurundjeri Welcome to Country form in beautiful paintings rich with blues and browns, as full of wonder and history as the tradition they depict. ...Show more
$14.99
AUD
Category: Children's Books | Series: Funny Kid
Ready to see a real-life alien? Laugh your head off with the super-popular Funny Kid series! Every kid wants to laugh, but Max is the boy who can make it happen. He's also the kid who wants to spend the most boring school holidays ever coming up with the greatest prank of all time. Max is the funny kid and it's time to prank the world! Conspiracy theories, crop circles, alien invasions, a mayor who has lost his marbles and the most Un-Fun Fair in the universe are just some of the things in store for Max and his friends in this new Funny Kid adventure. ...Show more
$24.99
AUD
Category: Children's Books | Series: Touchy-Feely Sound
Don't tickle the crocodile! You might make it snap... Little ones just won't be able to resist tickling the touchy-feely patches to hear each animal make a sound in this hilarious novelty book. At the end, readers will find all the animals being noisy at once. An exciting new series for babies and toddl ers, from the creators of That's not my... ...Show more
$17.99
AUD
Category: Children's Books
A sweet and quirky story about a child who is stuck carrying around an elephant, wondering if they will ever feel light and free again . . . A story full of humour and heart about having the blues, in the form of a big heavy elephant. One day an elephant came and sat on my chest. I found it hard to g et up or move around, to breathe or talk. "I'm Blue," the elephant said. "Can you please move, Blue?" I asked. "I don't want to move. This is a good spot for me to sit." "You're crushing me," I said. "Yet I find you very comfortable," said Blue. Mum read every book about elephants she could get her hands on, while Dad phoned an elephant specialist someone recommended. They all tried pushing, and pulling, and persuading. But would anyone - or anything - be able to shift Blue? Warm, empathetic, hopeful and often funny, with the ability to be read on different levels, My Elephant is Blue is the perfect story to help children explore and understand the experience of living under the weight of a big sadness. ...Show more
$16.99
AUD
Category: Children's Books
A delightfully funny and deeply relatable junior fiction story from one of Australia's most loved multi-media stars. Meet Stevie Louise. She is an entrepreneur (that's like a business person), an entertainer (obviously), and an extrovert on the inside (wait, is this a thing?). Stevie has a BRILLIANT PLA N. She's going to have fun, make money, and most importantly, make sure the Brooke Street kids stay best friends forever. Then a new neighbour arrives and threatens to derail all Stevie's plans. And then real disaster strikes. But the show must go on. After all, Stevie is a professional. A gloriously warm, funny and relatable story from much-loved comedian, writer, radio announcer and social media sensation Tanya Hennessy.   ...Show more
$27.99
AUD
Category: Children's Books | Series: Magnified
Ancient World Magnified whisks readers on a journey through time, magnifying glass in hand, for a search-and-find adventure at the beginning of human history. Travel through time, grab your magnifying glass and seek out incredible facts about ancient history in this search-and-find adventure, packed wi th over 200 things to spot! Spanning continents and covering thousands of years, this fun, lively book shows how the people of these vanished civilisations lived and how their societies evolved. Explore the lives of ancient Greek Gods, meet fearsome gladiators from ancient Rome and uncover the mystery of the Aztecs. Explore civilisations including: • Babylonia • Carthage • Qin Dynasty • Maya • Mongol Empire • Kingdom of Zimbabwe … and many more, with a dedicated two-page spread for each one, brimming with hidden detail and bustling with action. Use the free magnifying glass to spot more than 200 ancient world-themed items in each eye-boggling illustration. ...Show more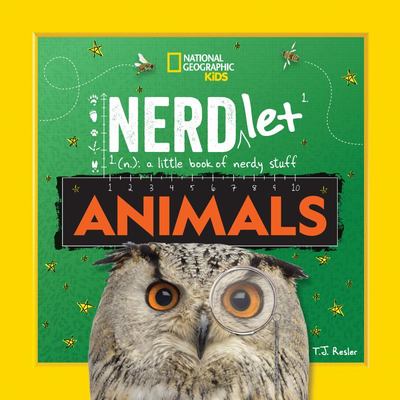 $14.99
AUD
Category: Children's Books
Sometimes big nerdiness comes in a small package--and this little book is an animal nerd's dream Meet animals of all kinds--from sharks and moles to orangutans and okapis-- in this quirky, jam-packed original from National Geographic Kids.   If you thought you were brainy, take a look at the incredibl e critters in this book. Inside, you'll find a spider that spends its whole life in a bubble and birds that build nests so big, they're like avian apartment complexes (And we're just getting started )   In this little animal "Nerdlet" you'll learn about the weirdest, coolest, most amazing creatures in the animal kingdom--and what makes them so complex. Plus, you'll have some of your most burning animal questions answered, such as What's the deal with crocodile tears? And you'll meet people who get to be around animals for a living and travel to animal destinations around the world. You'll also find personality quizzes, fun facts, animal superheroes, and even a Star Wars reference ... or two. ...Show more

$14.99
AUD
Category: Children's Books | Series: Little Faces Ser.
Watch tiny unicorn run, meeting her friends as she speeds about! Each page introduces new animals and venetian paper technology brings every scene to life.