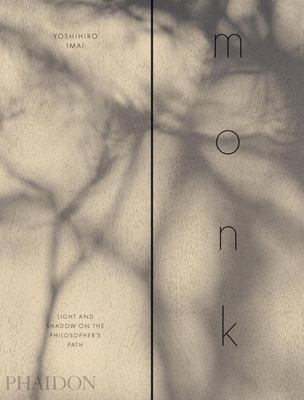 Monk - Light and Shadow on the Philosopher's Path
by Yoshihiro Imai; Naomi Reis (Translator); Emmy Reis (Translator); Yuka Yanazume (By (photographer)); Julia Hasting (Designed by)
$59.99
AUD
Category: Cooking & Mixology
An evocative and personal chef monograph -- and an ode to wood-fired cooking -- from Japan's exciting emerging chef monk is the story of Yoshihiro Imai's 14-seat, seasonally inspired restaurant, set on the cherry blossom-lined Philosopher's Path in Kyoto. Through personal essays, reflections, recipes, and photography, Yoshihiro describes stories of the farmers, makers, and exceptional ingredients -- from foraged vegetables to herbs and flowers -- that inspire his omakase-style menu, explains why cooking with fire is central to the restaurant, and traces the evolution of the unpretentious, innovative, and flavorful pizza for which he is now renowned globally. ...Show more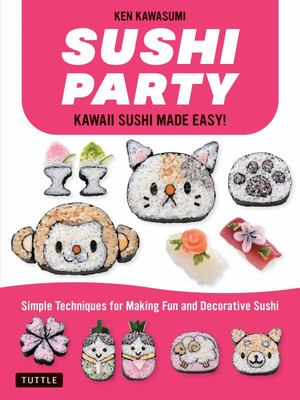 $24.99
AUD
Category: Cooking & Mixology
The ultimate finger food, cute and colorful sushi is perfect for entertaining   Easy to eat, gorgeous to look at, and healthy, too--it's no wonder sushi is one of the world's favorite foods. This book shows you the simple techniques used to make kawaii decorative sushi that will delight everyone who sees them Renowned Japanese sushi chef Ken Kawasumi has assembled 55 super-cute sushi recipes, including: Adorable animals, including turtles, monkeys, swans, pandas and dolphins Fabulous flowers, including cherry blossom, hibiscus and chrysanthemum Colorful rolls that look like watermelon slices, ice cream sundaes and Japanese dolls Stunning sushi rice-bowl art, including a breathtaking landscape of Mount Fuji Each recipe has detailed step-by-step instructions with photographs showing the individual stages, assembly techniques and the finished dish. There is also a comprehensive guide to basic sushi rice preparation, rolling techniques and handling seafood safely. The glossary sorts the sushi creations by color, allowing you to easily plan your theme and color-coordinate your party.   If you're looking for a cute and crafty way to liven up a special occasion and impress your guests, look no further ...Show more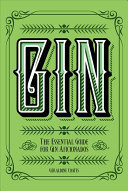 $24.99
AUD
Category: Cooking & Mixology | Series: Y Ser.
This celebration of the clear liquor in all its guises will go down as smoothly as a lovingly created gin and tonic.   A toast to gin, whether enjoyed straight, flavored, in a mixed drink, or as an ingredient in cooking. Lavishly illustrated and written in an easy-to-read style, this delightful guide not only offers classic cocktail recipes, but also describes the history of the spirit, its production and distillation, and its many variations. You'll learn where to buy the premier brands, and get tasting notes to guide you.   Reissue ...Show more
$61.99
AUD
Category: Pop Culture Books | Series: Dungeons & Dragons Ser.
80 recipes inspired by the magical world of Dungeons & Dragons--perfect for a solo quest or a feast shared with fellow adventurers.   From the D&D experts behind Dungeons & Dragons Art & Arcana comes a cookbook that invites fantasy lovers to learn about their favorite fictional culture s through their unique cuisines and lifestyles. With this book, you can prepare dishes delicate enough to dine like elves and their drow cousins or hearty enough to feast like a dwarven clan or a boisterous orcish horde. All eighty dishes--developed by a professional chef from one of the country's top test kitchens--are delicious, easy to prepare, and composed of wholesome ingredients readily found in our world. Heroes' Feast includes recipes for snacking, such as Bytopian Shepherd's Bread, Iron Rations, savory Hand Pies, and Hogs in Bedrolls, as well as hearty vegetarian, meaty, and fish mains, such as Amphail Braised Beef, Hommlet Golden Brown Roasted Turkey, Drow Mushroom Steaks, and Moonshae Seafood Risotto. There are also featured desserts and cocktails--like Heartlands Roseapple & Blackberry Pie, Yawning Portal Biscuit, and Chultan Zombie--and everything in between, to satisfy a craving for any adventure. ...Show more
$32.99
AUD
Category: Cooking & Mixology
Nat's What I Reckon was the tattooed lockdown saviour we didn't know we needed, rescuing us from packet food, jar sauce and total boredom with his hilarious viral recipe videos that got us cooking at home like champions again. Now that we've cooked our way out of lockdown and are wondering what the hell to do next, Nat's back – and he's ready to teach us more about life in this thoroughly unhelpful (but maybe actually kinda helpful) self-help guide. Nat's already shown us that jar sauce can get f*cked. But what else is sh*t – and what's actually not sh*t? Is it all as bad as we feel like it is most of the time? No part of our weird world and idiotic behaviour is spared as our long-haired guru tells us what he reckons about it all – and amps up the flavour with some eye-watering stories from his early years before a sweary video about pasta sauce shot him to global fame. With Nat's nine no-nonsense rules, you'll be on the road to being less of a d*ckhead faster than you can say 'quarantine spirit risotto with parzley on top'. And if you screw it up: it doesn't bloody Parramatta, champ. Features a small illustrated selection of Nat's favourite recipes.   ...Show more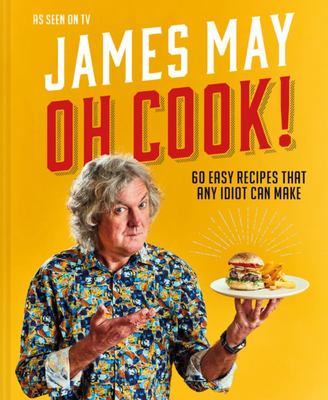 $29.99
AUD
Category: Cooking & Mixology
TV tie-in cookbook for beginners from a much-loved author and presenter The cookbook that, finally, drives a blunt meat skewer through the burgeoning pseudo-intellectualism of foodie media, this is a foolproof manual packed with practical information and delicious recipes for even the most basic of hom e cooks. After years of shirking from his culinary duties, James is on a mission to educate himself about the world of food. In this TV tie-in, he seeks to unpack the mysteries of the industry from kitchen basics to haute cuisine, covering everything from poaching eggs to preparing the perfect Sunday roast. Gathering recipes and expert advice from celebrity chefs along the way, James discovers just what it takes to put together a cracking cookbook, from recipe testing to photography and everything in between. ...Show more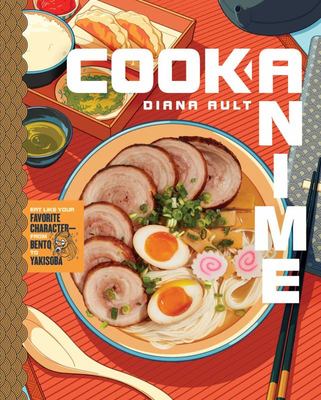 $35.00
AUD
Category: Cooking & Mixology
Embark on a foodie's journey through the world of anime--and learn to recreate delicious dishes from your favorite series--with this practical guide to anime food. Japanese animation has beautiful designs, fleshed out characters, and engaging storylines--and it's also overflowing with so many scrumptio usly rendered meals Do you ever watch your favorite anime series and start craving the crunch of crispy seafood or the warmth of delicious noodles and broth or the fluffiness of soft, airy cakes? Now, you can make your cravings a reality with Cook Anime Join an otaku on her tour through anime food and find out what your favorite characters are savoring and sharing--from bento to yakisoba--and then learn to make it at home Along with each recipe, you will discover facts behind the food, such as history, culture, tips, and more. Perfect for foodies and anime-lovers alike, Cook Anime is the all-inclusive guide to making the meals of this Japanese artform. ...Show more
$39.99
AUD
Category: Cooking & Mixology
Ever wondered what Lembas Bread, Cram, or Beorn's Honey Cakes might taste like? From Crickhollow Apple Loaf, Pippin's Minas Tirith Lunch, and Brandywine Fish Pie to Dwarven Spiced Pickled Beetroot, Westfarthing Fairings, and Beorn's Twice-Baked Cakes, Recipes from the World of Tolkien includes over 75 mouth-watering recipes that will take you on a journey through Middle-earth, delivering a treat for your taste buds and your imagination. Immerse yourself in Tolkien's epic fantasy world with recipes inspired by its places and characters. Whether it's breakfast or second breakfast, elevenses or afternoon tea, lunch or dinner - cook up a feast fit for orcs and elves alike.   This work is unofficial and is not authorized by the Tolkien Estate or HarperCollins Publishers. ...Show more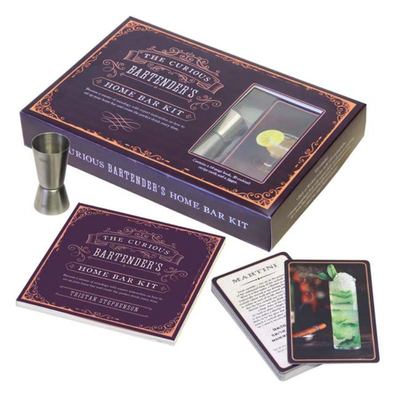 $27.99
AUD
Category: Cooking & Mixology
An expert guide to setting up a home bar plus 30 recipe cards and an essential piece of cocktail-making equipment all in one box set.   Preparing a first-class cocktail relies upon a deep understanding of its ingredients and the delicate alchemy of how they work together. Nobody understands this bette r than Tristan Stephenson - drinks industry consultant, bar owner, restaurateur and author of five books on the subject of drinks and drinking. Here he offers expert advice on the fundamentals of home mixology and explains the practical cocktail-making techniques that every keen home barman should master, from how to build a drink in a glass to preparing a variety of garnishes. Next Tristan showcases a selection of classic and modern cocktails on a deck of 4-colour laminated recipe cards included in the pack. The intriguing origin of each drink is explained and the colourful historical characters who inspired or created them are introduced. Recipes include drinks with gin, rum, tequila, whiskey and brandy bases and you'll find familiar classics such as the Manhattan, Negroni, and Martini, discover lesser known vintage gems including the Martinez and Aviation and modern favourties the Espresso Martini and Mojito. Also included is a cocktail jigger - the essential piece of cocktail-making kit for any enthusiast. ...Show more
$19.99
AUD
Category: Cooking & Mixology
Twenty simple, healthy, and delicious recipes to cook for your cat at home, from everyday dishes to treats and snacks. In her latest book, food writer Debora Robertson has created a fun, indulgent book for feline fanatics. Inspired by her cat, Dixie, she's devised an exciting menu of simple, inexpensiv e dinners and treats made using readily available ingredients, so they fit easily into your everyday life. With twenty recipes, there is something to tempt even the most finicky of feline palates. The book is packed full of advice on your marvelous cat's diet. It begins with an indispensable larder section before guiding you through everyday treats, easy one-pot dinners, and delicious dishes for special occasions. Many of the dishes can be made cheaply in batches, and there is advice on how best to feed your cat. The book includes recipes not only for good general health, but also advice on nutrition for sick or recovering cats. And because play is important, the book also contains simple craft projects too, including a fishing-pole toy, scratching post, indoor kitty garden, catnip mouse, cardboard cat playhouse, and cat pillow. There are also suggestions on making presents for cats, as well as tips on training and general good cat behavior. ...Show more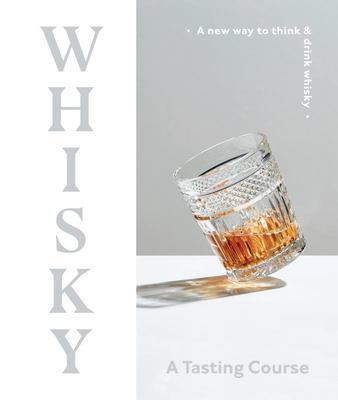 $34.99
AUD
Category: Cooking & Mixology
Through a series of guided at-home tastings, you'll become familiar with the full spectrum of whisky aromas and flavours on offer - from the smoky tang of Islay peat to the sandalwood scent of Japanese oak. Find out how to engage all your senses to navigate the range of malts, grains and blended whiskie s and come to grips with different whisky styles. Take a tasting tour of the world's finest makers, including iconic Scottish distilleries and the small-scale artisan producers springing up all over the globe. And as you become more whisky-confident, you can break out of your whisky comfort zone. Do you love the honeyed sweetness of a Kentucky bourbon? If so, why not try a smooth malt that's been aged in ex-bourbon barrels? Or a creamy, oat-infused Irish craft whisky? A fact-packed know-how section helps you to read labels and make smart buys. Discover how to pour, store and serve whiskies and match them with foods. Learn to mix cocktails, from a classic whisky sour to your own signature creation. With 20 step-by-step whisky tastings, and brimming with clear infographics and jargon-busting advice, Whisky- A Tasting Coursehelps you taste your way to whisky wisdom. ...Show more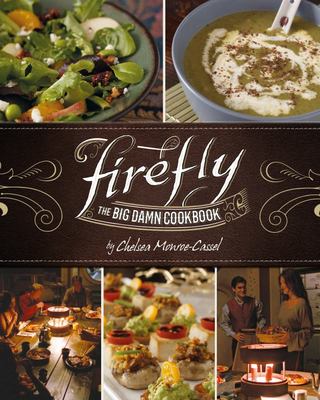 $59.99
AUD
Category: Cooking & Mixology
Cook your way across the 'Verse using over 70 recipes inspired by Joss Whedon's cult TV show with Firefly: The Big Damn Cookbook. Treat your friends, family, and crew with Firefly: The Big Damn Cookbook. Featuring 70 recipes inspired by the cult television show and illustrated with gorgeous full-color photography, you'll never have to settle for protein blocks again. From Simon's protein birthday cake to River's problematic ice planet, this collection of recipes will keep you and your fellow Browncoats well fed even on your longest smuggling runs. Also Includes...   *  Mudder's milk   *  Zoe's 'Wife Soup'   *  Fresh bao   *  Southdown Abbey couscous   *  Gunpowder gimlet   *  Fruity oaty bars   *  Mama Reynold's shoofly pie ...Show more