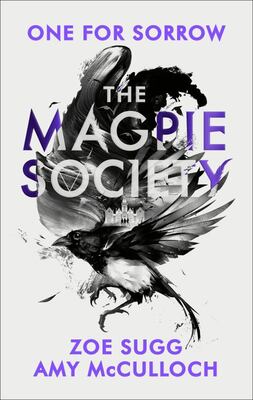 $24.99
AUD
Category: Sci-Fi & Fantasy
The first book in a modern gothic YA thriller series from star authors Zoe Sugg, and Amy McCullough Illumen Hall is a boarding school of tradition and achievement. But tragedy strikes when the body of a girl, a student, is discovered - on her back is an elaborate tattoo of a magpie. For new student Audrey, it is just another strange and unsettling thing about her new surroundings. And for her roommate Ivy, well, she's just annoyed she has to share with the new girl from America. As an unlikely friendship develops, the two are drawn deeper into the mystery of this strange and terrible murder. They will discover that something dangerous is at the heart of their school. Welcome to The Magpie Society. ...Show more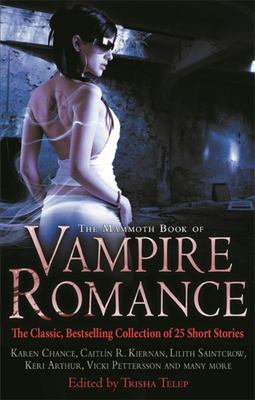 $22.99
AUD
Category: Sci-Fi & Fantasy | Series: The\Mammoth Bks.
You never forget your first time with a vampire. Whether reaquainting yourself with some of your favourite, sexy creatures of the night or getting bitten by the vampire romance phenomenon for the very first time, let the biggest and brightest names in the business help you explore your dark side. Witnes s the bewildering array of complex vampire codes of conduct, dark ritual and dating practices as they chat up the locals and engage in the most erotic encounters you will sink your teeth into this side of un-Death. Because vampires never really die, do they? ...Show more
$32.99
AUD
Category: Sci-Fi & Fantasy
From the New York Times bestselling author of the legendary Witcher series--the books that inspired the Netflix show and the hit video games--comes the first in an epic new trilogy.   Reinmar of Bielawa, sometimes known as Reynevan, is a doctor, a magician and, according to some, a charlatan. And when a thoughtless indiscretion finds him caught in the crosshairs of powerful noble family, he is forced to flee his home.   But once he passes beyond the city borders, he finds that there are dangers ahead as well as behind. Strange mystical forces are gathering in the shadows. And pursued not only by the affronted Stercza brothers, bent on vengeance, but also by the Holy Inquisition, Reynevan finds himself in the Narrenturm, the Tower of Fools.   The Tower is an asylum for the mad, or for those who dare to think differently and challenge the prevailing order. And escaping the Tower, avoiding the conflict around him, and keeping his own sanity might prove a greater challenge than Reynevan ever imagined.     Also by Andrzej Sapkowski:   Witcher collections The Last Wish Sword of Destiny   Witcher novels Blood of Elves The Time of Contempt Baptism of Fire The Tower of Swallows Lady of the Lake Season of Storms   The Malady and Other Stories: An Andrzej Sapkowski Sampler (e-only)     Translated by David French   ...Show more
$22.99
AUD
Category: Sci-Fi & Fantasy | Series: The Witcher
Geralt the Witcher races to find his missing ward, Ciri, in this fourth novel in the bestselling Witcher series that inspired the Netflix show and video games. The world has fallen into war. Ciri, the child of prophecy, has vanished. Hunted by friends and foes alike, she has taken on the guise of a pett y bandit and lives free for the first time in her life. But the net around her is closing. Geralt, the Witcher, has assembled a group of allies determined to rescue her. Both sides of the war have sent brutal mercenaries to hunt her down. Her crimes have made her famous. There is only one place left to run. The tower of the swallow is waiting... ...Show more
$22.99
AUD
Category: Sci-Fi & Fantasy
In the year 2570, a sleeper will wake . . . In the mid-21st century, the Kernel, a strange object on a five-hundred-year-orbit, is detected coming from high above the plane of the solar system. Could it be an alien artefact? In the middle of climate-change crises, there is no mood for space-exploration stunts - but Reid Malenfant, elderly, once a shuttle pilot and frustrated would-be asteroid miner, decides to go take a look anyway. Nothing more is heard of him. But his ex-wife, Emma Stoney, sets up a trust fund to search for him the next time the Kernel returns . . . By 2570 Earth is transformed. A mere billion people are supported by advanced technology on a world that is almost indistinguishable from the natural, with recovered forests, oceans, ice caps. It is not an age for expansion; there are only small science bases beyond the Earth. But this is a world you would want to live in: a Star Trek without the stars. After 500 years the Kernel returns, and a descendant of Stoney, who Malenfant will call Emma II, mounts a mission to see what became of Malenfant. She finds him still alive, cryo-preserved . . . His culture-shock encounter with a conservative future is entertaining . . . But the Kernel itself turns out to be attached to a kind of wormhole, through which Malenfant and Emma II, exploring further, plummet back in time, across five billion years . . . ...Show more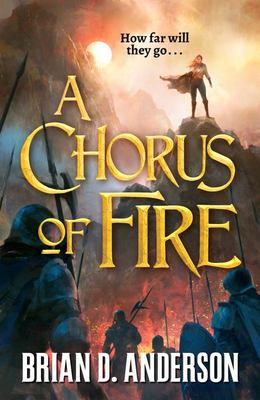 $32.99
AUD
Category: Sci-Fi & Fantasy | Series: The\Sorcerer's Song Ser.
A Chorus of Fire is the second installment of the Sorcerer's Song fantasy adventure series from Brian D. Anderson, bestselling author of The Godling Chronicles and Dragonvein. A shadow has moved across Lamoria. Whispers of the coming conflict are growing louder; the enemy becoming bolder. Belkar's reac h has extended far into the heart of Ralmarstad and war now seems inevitable. Mariyah, clinging to the hope of one day being reunited with Lem, struggles to attain the power she will need to make the world safe again. But a power like this is not easily acquired and will test the limits of her mind and body. She will need to look deep inside herself to find the strength to achieve what even the Thaumas of old could not. Lem continues his descent into darkness, serving a man he does not trust in the name of a faith which is not his own. Only Shemi keeps his heart from succumbing to despair, along with the knowledge that he has finally found Mariyah. But Lem is convinced she is being held against her will, and compelled to do the bidding of her captors. He is determined to free her, regardless the cost. Their separate roads are leading them to the same destination. And once they arrive they will have to confront more than the power of Belkar. They will have to face themselves and what Lamoria has forced them to become. ...Show more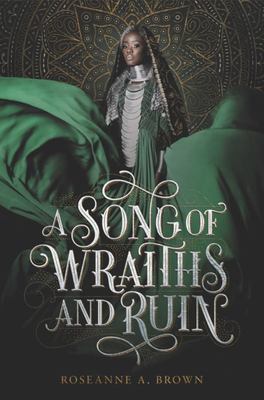 $19.99
AUD
Category: Sci-Fi & Fantasy
An instant New York Times bestseller The first in a gripping fantasy duology inspired by West African folklore in which a grieving crown princess and a desperate refugee find themselves on a collision course to murder each other despite their growing attraction--from debut author Roseanne A. Brown. This New York Times bestseller is perfect for fans of Tomi Adeyemi, Ren e Ahdieh, and Sabaa Tahir. For Malik, the Solstasia festival is a chance to escape his war-stricken home and start a new life with his sisters in the prosperous desert city of Ziran. But when a vengeful spirit abducts his younger sister, Nadia, as payment to enter the city, Malik strikes a fatal deal--kill Karina, Crown Princess of Ziran, for Nadia's freedom. But Karina has deadly aspirations of her own. Her mother, the Sultana, has been assassinated; her court threatens mutiny; and Solstasia looms like a knife over her neck. Grief-stricken, Karina decides to resurrect her mother through ancient magic . . . requiring the beating heart of a king. And she knows just how to obtain one: by offering her hand in marriage to the victor of the Solstasia competition. When Malik rigs his way into the contest, they are set on a heart-pounding course to destroy each other. But as attraction flares between them and ancient evils stir, will they be able to see their tasks to the death?Magic creates a centuries-long divide between peoples in this stunning debut novel inspired by North African and West African folklore. An action-packed tale of injustice, magic, and romance, this novel immerses readers in a thrilling world and narrative reminiscent of Children of Blood and Bone. (Publishers Weekly, An Anti-Racist Children's and YA Reading List) ...Show more
$19.99
AUD
Category: Sci-Fi & Fantasy | Series: Sandman Slim Ser.
Sandman Slim is back in Los Angeles and kicking more supernatural ass in this inventive, high-octane page-turner--the next to last volume in the popular and acclaimed fantasy adventure series from New York Times bestselling author Richard Kadrey. As the battle between warring angels continues, James Sta rk is focused on seemingly simpler matters now that he's resurfaced on earth: an invasion of ghosts. L.A.'s Little Cairo neighborhood has suddenly been overrun by violent spirits, and Thomas Abbott knows if anyone can figure out why they've appeared - and how to get rid of them - it's Stark. Armed with the Room of Thirteen Doors, Stark quickly learns that the answer may reach back to the 1970s and the unsolved murder of small-time actor Chris Stein. As he begins to dig into the cold case, another area of Stark's life takes an unexpected turn when he becomes entangled with Janet, a woman he saved during the High Plains Drifter zombie attack. Janet's brush with the living dead hasn't quenched her thirst for danger. She's an adrenaline junkie and a member of The Zero Lodge - a club that promises 'there's zero chance you'll get out alive'. The Lodge attracts thrill seekers who flock to perilous events such as night walks through the L.A. Zoo - with its deadliest animals uncaged. Joining the lodge to be with Janet, Stark makes a pair of crucial discoveries that could decide the fate of L.A. and Heaven itself. To prevent the Little Cairo haunting from consuming the city, Stark must piece together the connections between the Lodge and a missing angel last seen in a Hollywood porn palace. But while he may dispatch the ghosts, Stark knows that without his help, the bloody war in Heaven could rage forever. ...Show more
$29.99
AUD
Category: Sci-Fi & Fantasy | Series: Poppy War Ser.
The exciting end to The Poppy War trilogy, R.F. Kuang's acclaimed, award-winning epic fantasy that combines the history of 20th-century China with a gripping world of gods and monsters, to devastating, enthralling effect. After saving her nation of Nikan from foreign invaders and battling the evil Empr ess Su Daji in a brutal civil war, Fang Runin was betrayed by allies and left for dead. Despite her losses, Rin hasn't given up on those for whom she has sacrificed so much - the people of the southern provinces and especially Tikany, the village that is her home. Returning to her roots, Rin meets difficult challenges - and unexpected opportunities. While her new allies in the Southern Coalition leadership are sly and untrustworthy, Rin quickly realizes that the real power in Nikan lies with the millions of common people who thirst for vengeance and revere her as a goddess of salvation. Backed by the masses and her Southern Army, Rin will use every weapon to defeat the Dragon Republic, the colonizing Hesperians, and all who threaten the shamanic arts and their practitioners. As her power and influence grows, though, will she be strong enough to resist the Phoenix's intoxicating voice urging her to burn the world and everything in it? ...Show more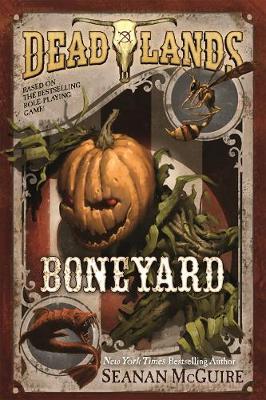 $24.99
AUD
Category: Sci-Fi & Fantasy
Step right up to seethe oddities and marvels of The Blackstone Family Circus and Travelling Wonder Show! Gasp at pit wasps the size of a man's forearm. Beware the pumpkin headed corn stalker, lest it plant its roots in you! Annie Pearl is the keeper of oddities, the mistress of monsters. Her unique coll ection of creatures is one of the circus's star attractions, drawing wide- eyed crowds at every small frontier town they visit. But Annie is also a woman running from her past. .. and the mother of a mute young daughter, Adeline, whom she will do anything to protect. Hoping to fill its coffers before winter sets in, the circus steers its wagons to The Clearing, a remote community deep in the Oregon wilderness, surrounded by an ominous dark wood. Word is that a traveling show can turn a tidy profit at The Clearing, but there are whispers, too, of unexplained disappearances that afflict one out of every four shows that pass through the town. The Clearing has it secrets, and so does Annie. And it may take everything she has to save her daughter - and the circus - from both. A gripping tale of the Weird West, set on the haunted frontier of DEADLANDS, the award-winning game from Pinnacle Entertainment Group. ...Show more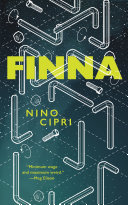 Finna
by Nino Cipri
$24.99
AUD
Category: Sci-Fi & Fantasy
"A magical anti-capitalist adventure." --Annalee NewitzNino Cipri's Finna is a rambunctious, touching story that blends all the horrors the multiverse has to offer with the everyday awfulness of low-wage work. It explores queer relationships and queer feelings, capitalism and accountability, labor and l ove, all with a bouncing sense of humor and a commitment to the strange.When an elderly customer at a Swedish big box furniture store -- but not that one -- slips through a portal to another dimension, it's up to two minimum-wage employees to track her across the multiverse and protect their company's bottom line. Multi-dimensional swashbuckling would be hard enough, but those two unfortunate souls broke up a week ago.To find the missing granny, Ava and Jules will brave carnivorous furniture, swarms of identical furniture spokespeople, and the deep resentment simmering between them. Can friendship blossom from the ashes of their relationship? In infinite dimensions, all things are possible. ...Show more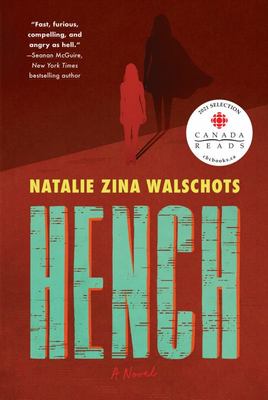 Hench
by Natalie Zina Walschots
$32.99
AUD
Category: Sci-Fi & Fantasy
A smart, imaginative, and evocative novel of love, betrayal, revenge, and redemption, told with razor-sharp wit and affection, in which a young woman discovers the greatest superpower--for good or ill--is a properly executed spreadsheet. Anna does boring things for terrible people because even criminal s need office help and she needs a job. Working for a monster lurking beneath the surface of the world isn't glamorous. But is it really worse than working for an oil conglomerate or an insurance company? In this economy? As a temp, she's just a cog in the machine. But when she finally gets a promising assignment, everything goes very wrong, and an encounter with the so-called "hero" leaves her badly injured. And, to her horror, compared to the other bodies strewn about, she's the lucky one. So, of course, then she gets laid off. With no money and no mobility, with only her anger and internet research acumen, she discovers her suffering at the hands of a hero is far from unique. When people start listening to the story that her data tells, she realizes she might not be as powerless as she thinks. Because the key to everything is data: knowing how to collate it, how to manipulate it, and how to weaponize it. By tallying up the human cost these caped forces of nature wreak upon the world, she discovers that the line between good and evil is mostly marketing. And with social media and viral videos, she can control that appearance. It's not too long before she's employed once more, this time by one of the worst villains on earth. As she becomes an increasingly valuable lieutenant, she might just save the world. A sharp, witty, modern debut, Hench explores the individual cost of justice through a fascinating mix of Millennial office politics, heroism measured through data science, body horror, and a profound misunderstanding of quantum mechanics. ...Show more