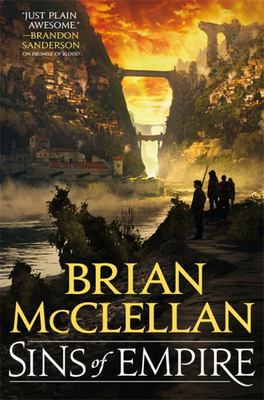 $19.99
AUD
Category: Sci-Fi & Fantasy | Series: Gods of Blood and Powder Ser.
'Crackles with excitement and adventure on every page' Fantasy Book Review Enter a war-torn world where gunpowder and magic collide The nation of Fatrasta is a haven for criminals, rebels, adventurers and sorcerers seeking relics of the past. As insurrection grows, only the iron will of the Lady Chanc ellor holds the capital city of Landfall together. Yet an ancient power as old as time is rising, and the fate of this young nation now rests in the hands of a spy, a disgraced war hero and a mercenary general with a past as turbulent as Landfall's present. Sins of Empire is the explosive new epic fantasy from Gemmell Award-winning author Brian McClellan. Look out for Wrath of Empire, book two in the Gods of Blood and Powder series, in May 2018. Praise for Brian McClellan: 'Gunpowder and magic. An explosive combination' Peter Brett 'Brings a welcome breath of gunpowder-tinged air to epic fantasy' Anthony Ryan 'Tense action, memorable characters, rising stakes . . . Brian McClellan is the real thing' Brent Weeks 'Innovative magic, quick-paced plot, interesting world. I had a blast' Brandon Sanderson Books by Brian McClellan: Gods of Blood and Powder Sins of Empire Wrath of Empire The Powder Mage trilogy Promise of Blood (Winner of the Gemmell Morningstar Award) The Crimson Campaign The Autumn Republic ...Show more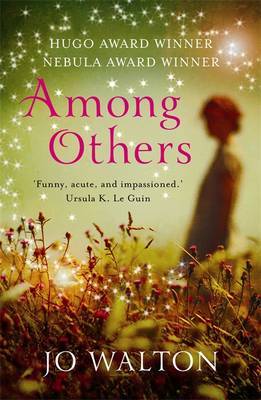 $21.99
AUD
Category: Sci-Fi & Fantasy
'It doesn't matter. I have books, new books, and I can bear anything as long as there are books.' Fifteen-year-old Morwenna lives in Wales with her twin sister and a mother who spins dark magic for ill. One day, Mori and her mother fight a powerful, magical battle that kills her sister and leaves Mori c rippled. Devastated, Mori flees to her long-lost father in England. Adrift, outcast at boarding school, Mori retreats into the worlds she knows best: her magic and her books. She works a spell to meet kindred souls and continues to devour every fantasy and science fiction novel she can lay her hands on. But danger lurks...She knows her mother is looking for her and that when she finds her, there will be no escape. ...Show more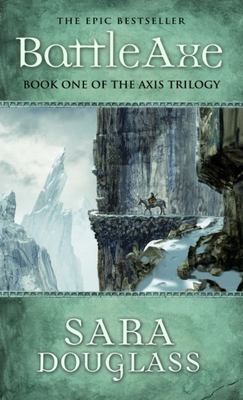 $20.99
AUD
Category: Sci-Fi & Fantasy | Series: The\Axis Trilogy Ser.
A beautiful collector's edition of one of the first HarperVoyager books, celebrating 20 years since publication of one of Australia's most successful fantasy authors of all time. A thousand years ago the Acharites drove the Forbidden from their land. Now strange sightings along Achar's northern border f oreshadow their return. The barbaric tribes of the Ravensbund are pouring south with tales of fearsome beings who feed on the terror of their prey. Axis, bastard son of the dead Princess Rivkah, is sent to the battlefront of Gorkenfort with his elite Axe-Wielders. Once there, he must hand over command to his hated half-brother, Borneheld. But travelling north, Axis falls in love with Faraday - Borneheld's bethrothed, and meets two priests who challenge the very essence of his beliefs. The Sentinels walk the land, the TreeFriend has been found, and the people of the Plough, the Wing and the Horn must set aside their differences and unite under one leader against the evil rising in the North... ...Show more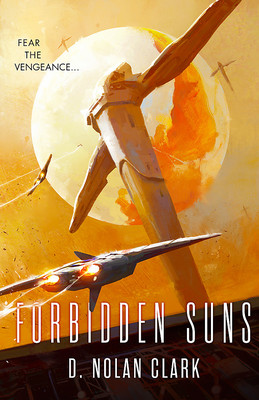 $22.99
AUD
Category: Sci-Fi & Fantasy
Forbidden Suns is the unmissable final novel in the Silence trilogy - widescreen space opera at its very best, combining blistering action with jaw-dropping plot twists. In the cold of space, the fire of revenge still burns. Aleister Lanoe has been on a mission since before he can remember. Honing his skills as a fighter pilot and commander through three centuries of constant warfare, he has never met a foe he cannot best. But now he faces a mission which may be his last: take vengeance on the alien race who has coldly and systematically erased all the sentient life in its path. In all his years at war, the stakes have never been higher . . . ...Show more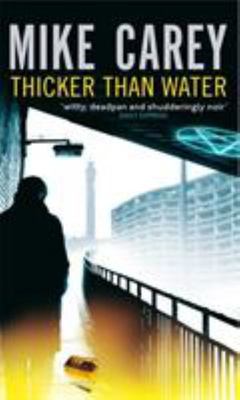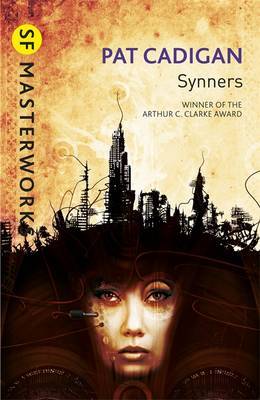 Synners
by Pat Cadigan
$24.99
AUD
Category: Sci-Fi & Fantasy | Series: S.F. Masterworks
Synners are synthesizers - not machines, but people. They take images from the brains of performers, and turn them into a form which can be packaged, sold and consumed. This book is set in a world where new technology spawns new crime before it hits the streets. In SYNNERS the line between technology an d humanity is hopelessly slim; the human mind and the external landscape have fused to the point where any encounter with reality is incidental. A classic novel from one of the founders and mainstays of the cyberpunk movement ...Show more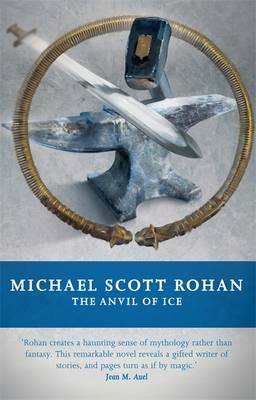 $22.99
AUD
Category: Sci-Fi & Fantasy | Series: Fantasy Masterworks
The chronicles of The Winter of the World echo down the ages in half-remembered myth and song - tales of mysterious powers of the Mastersmiths, of the forging of great weapons, of the subterranean kingdoms of the duergar, of Gods who walked abroad, and of the Powers that struggled endlessly for domi nion. In the Northlands, beleaguered by the ever-encroaching Ice and the marauding Ekwesh, a young cowherd, saved from the raiders by the mysterious Mastersmith, discovers in himself an uncanny power to shape metal - but it is a power that may easily be turned to evil ends, and on a dreadful night he flees his new home, and embarks on the quest to find both his own destiny, and a weapon that will let him stand against the Power of the Ice. His wanderings will bring him great friends but earn him greater enemies, and eventually they will transform him from lowly cowherd to a mastersmith fit to stand with the greatest of all men. ...Show more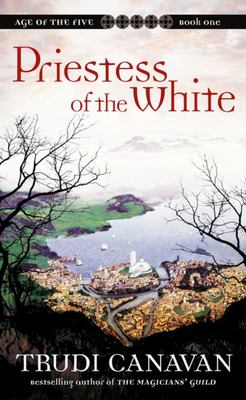 $22.99
AUD
Category: Sci-Fi & Fantasy | Series: The\Age of Five Trilogy Ser.
the brand new trilogy from the bestselling author of the Magicians' Guild. Auraya has just been named a Priestess of the White, to serve as sword and shield of the gods one of only five so honoured. She finds her unique talents tested to the limit when she travels far from home as an ambassador enlistin g others to follow the White. But Auraya?relationship with a member of an outcast sect of sorcerer-healers risks bringing her into conflict with others of the White ... and possibly destroying her future. Overshadowing all this is a powerful and mysterious black-clad sorcerer who seems to have a single purpose: annihilation of the White. And he is not alone. ...Show more
$22.99
AUD
Category: Sci-Fi & Fantasy | Series: Inheritance Trilogy
Yeine Darr is an outcast from the barbarian north. But when her mother dies under mysterious circumstances, she is summoned to the majestic city of Sky - a palace above the clouds where gods' and mortals' lives are intertwined. There, to her shock, Yeine is named one of the potential heirs to the king. But the throne of the Hundred Thousand Kingdoms is not easily won, and Yeine is thrust into a vicious power struggle with a pair of cousins she never knew she had. As she fights for her life, she draws ever closer to the secrets of her mother's death and her family's bloody history. But it's not just mortals who have secrets worth hiding and Yeine will learn how perilous the world can be when love and hate - and gods and mortals - are bound inseparably. ...Show more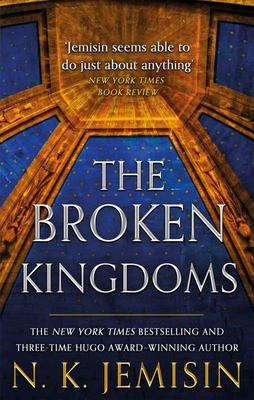 $20.99
AUD
Category: Sci-Fi & Fantasy | Series: Inheritance Trilogy Ser.
The debut series from the double Hugo Award-winning N. K. Jemisin, author of The Fifth Season 'Lush and evocative' Naomi Novik, author of Uprooted In the city of Shadow, beneath the World Tree, alleyways shimmer with magic and godlings live hidden among mortalkind. Oree Shoth, a blind artist, takes in a homeless man who glows like a living sun to her strange sight. However, this act of kindness is to engulf Oree in a nightmarish conspiracy. Someone, somehow, is murdering godlings, leaving their desecrated bodies all over the city. Oree's peculiar guest is at the heart of it, his presence putting her in mortal danger - but is it him the killers want, or Oree? And is the earthly power of the Arameri king their ultimate goal, or have they set their sights on the Lord of Night himself? The Inheritance Trilogy begins with The Hundred Thousand Kingdoms, continues in The Broken Kingdoms and concludes in The Kingdom of Gods. ...Show more
$19.99
AUD
Category: Sci-Fi & Fantasy | Series: Discworld Novels Ser.
Time is a resource. Everyone knows it has to be managed.And on the Discworld that is the job of the Monks of History, who store it and pump it from the places where it's wasted (like the underwater - how much time does a codfish need?) to places like cities, where there's never enough time.But the const ruction of the world's first truly accurate clock starts a race against, well, time for Lu Tze and his apprentice Lobsang Ludd. Because it will stop time. And that will only be the start of everyone's problems.THIEF OF TIME comes complete with a full supporting cast of heroes, villains, yetis, martial artists and Ronnie, the fifth Horseman of the Apocalypse (who left before they became famous). ...Show more
$22.99
AUD
Category: Sci-Fi & Fantasy | Series: Dresden Files Ser.
"Butcher is the dean of contemporary urban fantasy."—Booklist Harry Dresden, Chicago's only professional wizard, is about to have a very bad day… Because as Winter Knight to the Queen of Air and Darkness, Harry never knows what the scheming Mab might want him to do. Usually, it's something awful. .  H e doesn't know the half of it… Mab has just traded Harry's skills to pay off one of her debts. And now he must help a group of supernatural villains—led by one of Harry's most dreaded and despised enemies, Nicodemus Archleone—to break into the highest-security vault in town, so that they can then access the highest-security vault in the Nevernever.  It's a smash and grab job to recover the literal Holy Grail from the vaults of the greatest treasure hoard in the supernatural world—which belongs to the one and only Hades, Lord of the freaking Underworld and generally unpleasant character. Worse, Dresden suspects that there is another game afoot that no one is talking about. And he's dead certain that Nicodemus has no intention of allowing any of his crew to survive the experience. Especially Harry. Dresden's always been tricky, but he's going to have to up his backstabbing game to survive this mess—assuming his own allies don't end up killing him before his enemies get the chance…   ...Show more