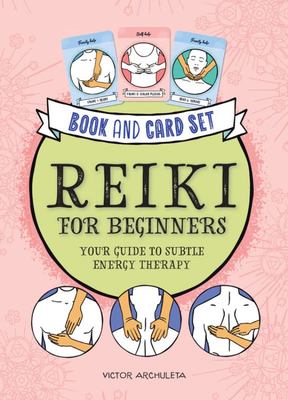 $24.99
AUD
Category: Weird & Wonderful | Series: Press Here! Ser.
Press Here Reiki for Beginners Book and Card Deck presents the 30 traditional Reiki hand positions--12 for self-help (practicing on yourself) and 12 for family-help (practicing on others)--that provide calm, soothing comfort that may help to relieve pain, stress, and anxiety and offer reassurance and su pport for physical and mental disease. In addition to an introduction and a description of the basic principles and benefits of Reiki, the book is organized into three ailment category sections, which allow the reader to access it in three different ways: by location, body system, and chakra.Ailments by Location (head/neck, chest, upper abdomen, pelvis, legs/feet)--Sometimes we have discomfort or disease in a particular part of our body and don't really know the cause or source of these issues. By following a protocol that uses hand positions associated with particular locations in the body, we can begin to address some of these issues.Ailments by Body System (immune, circulatory, gastrointestinal, respiratory, muscular and skeletal, endocrine, nervous)--By following a protocol that uses hand positions associated with particular imbalances in one or more of these systems, we may begin to address some of the issues caused by stress or injuries acquired in our daily life.Ailments by Chakra (root, sacral, solar plexus, heart, throat, third eye, crown)--These seven energy centers flow from the top of the head to the base of the spine and are associated with certain characteristics (for example, security, vulnerability, and trust). By following a protocol that uses hand positions associated with imbalances in one or more of these energy centers, we can begin to address some of these imbalances. The Press Here series offers contemporary takes on traditional hands-on healing practices for a new generation of practitioners. These introductory guides feature easy-to-access organization, clear instructions, and beautiful illustrations of each technique. Other Press Here topics include massage, reflexology, and acupressure. ...Show more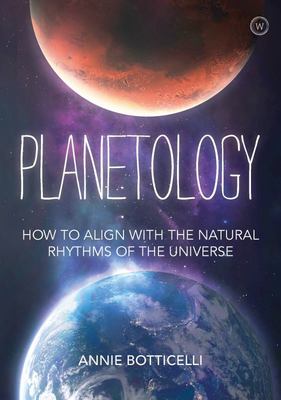 $29.99
AUD
Category: Weird & Wonderful
This is the first mainstream book to look at the whole range of astrological rhythms, including the planetary retrogrades and eclipses as well as the monthly moon cycle, in order to achieve success and a more contented and naturally flowing life. This is the first-ever mainstream guide to working with t he astrological cycles of the Universe. It will allow you to plan ahead and achieve more success in your projects, by taking risks at certain times and avoiding them at others, and also enable you to live more fully and joyfully, flowing with the natural rhythms of life. Accessible to complete beginners as well as offering more complex insights to those who already practise astrology, Planetology is packed full of hands-on projects to help readers work with Mercury, Venus, Mars and the sun and moon, each project with three levels of increasingly complex tasks that are designed to draw readers up to mastery level. At the book's core is Annie Botticelli's ASTRO system, which enables readers to align with each planet's motion through: Awareness (projects to work with each planet); Strategy (how to plan ahead for each cycle); Techniques (exercises that range from tapping to mineral soaks and detoxes to mantras); Remedies (such as crystals and homeopathy, all tuned into the planet under discussion); and Openness to unexpected, perhaps unwanted outcomes brought to you by Divine plan. These techniques, such as prayer and meditation, allow you to be receptive to the great universal flow that supersedes any one planetary cycle. ...Show more
$35.00
AUD
Category: Weird & Wonderful
Discover the ancient power of the Tarot with this beautifully illustrated modern deck. Featuring a comprehensive introductory handbook and full 78-card Tarot deck, this is the essential companion for those wanting to embark on their spiritual awakening. Use The Tarot to take you on a journey of self-di scovery, and to determine your own path whilst navigating life's twists and turns. With informed and easy-to-follow explanations throughout, a guide to the meanings and reversed meanings of every card in the Minor and Major Arcana, and some example spreads to get you started, this set is a complete and indispensable guide to the remarkable wisdom of the Tarot in one stunning package. ...Show more
$19.99
AUD
Category: Weird & Wonderful
At a time when we seek closer connection with the natural world, this title invites us to celebrate the earth and the rhythm of her seasons. It combines the two great streams of Western Pagan tradition - Wicca and Druidry.
$12.99
AUD
Category: Weird & Wonderful | Series: The\Little Book Of... Ser.
The Little Book of Yoga is an inspiring introduction to everything you need to enhance your life using Yoga. Whether you're new to the practice or have been mastering flows for longer, this portable guide reinforces the tenants of the physical, mental and spiritual practices that yoga embodies. Containi ng all of the information you need, The Little Book of Yoga outlines the different kinds of yoga, the benefits derived from practising and busting the silly myths that surround it. Distilled in bite-size, digestible sections, you can expect to learn how to achieve mobility and to improve the body's ability to cope with common ailments through this form of exercise, as well as how this regime can lead to spiritual development and enlightenment. ...Show more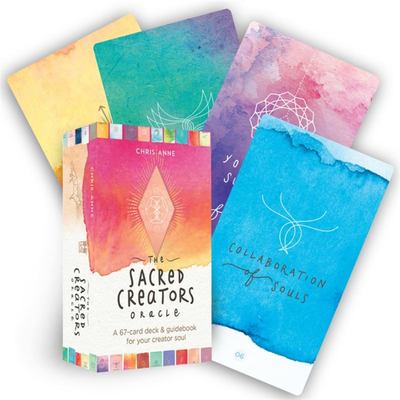 $34.95
AUD
Category: Weird & Wonderful
Bring intuition, magic, and expansive potential into your life and your business with this 62-card oracle deck that will help you plan your soul journey toward your big dream--completely updated and revised from its original Kickstarter edition   WHAT'S YOUR SOUL CREATING?   A guide for dream-chase rs and magic-makers seeking serendipity, magic, intuition, and expansive potential in everyday life-or in business   Make your big sacred dream a reality with this completely revised and updated Hay House edition of The Sacred Creators Oracle. The messages you receive will guide you to take inspired action in your purpose-filled life as you map your soul's journey or plan your next creative project. The extra journal prompts for each card are a fun, simple way to rethink the challenges you encounter and inspire magic so your creator spirit will thrive. ...Show more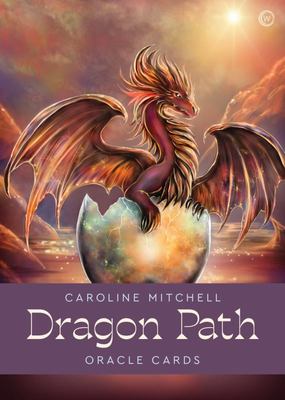 $41.99
AUD
Category: Weird & Wonderful
Dragons are immensely powerful, creative, inquisitive and honourable beings, with enormous compassion and often a dry sense of humour. This ground-breaking oracle deck allows users to connect with 33 dragons, each with their own personality and way of helping us. Each of the 33 stunning cards represents one of the dragons, and an 80-page booklet profiles the dragons in detail, suggesting how to work with their energy. The Dragons are grouped in four clans- the Earth Walk Dragons, the empowers, who support us on our physical journey; the multi-dimensional Galactic Dragons, the connectors, who work out in the galaxies to raise our vibration; the Grand Master Dragons, shape-shifting spiritual teachers who seek us out when we have started to advance; and the Guardian Dragons, who work in pairs, balancing each other's energies like yin and yang and guiding us wherever we are on our spiritual journey. Rather than giving us straight answers, the dragons guide us as we begin to trust ourselves, our intuition and our inner wisdom. Working with the dragons, we notice when the Universe is answering our call, and then act upon it. As our spiritual growth deepens, we become more self-aware and release old belief patterns, behaviours and ways of being. The Dragons ask only that we be true to ourselves. There is no set way to use the cards - connect with the Dragons in the way that feels right to you, whether that is picking a Daily Guidance card for instant insight or using the spreads described in the booklet, such as the Month Ahead spread, defining your focus for the next four weeks, or the Spiritual Seeker spread, created to help you on your spiritual journey. ...Show more
$12.99
AUD
Category: Weird & Wonderful | Series: The\Little Book Of... Ser.
The Little Book of Astrology is an accessible introduction to everything you need to enhance your life using astrology. On Twitter and Instagram you will have no doubt seen memes poking fun at everyone's signs - but do you know what they really mean? The Little Book of Astrology breaks down each of th e 12 sun signs, covering their traits, good and bad points, and attitudes to love, life and work. Each sign is explored in a clear and simple way - and perfect for anyone who wants to know more about the symbols, elements, qualities, birthstones and more about each sign. ...Show more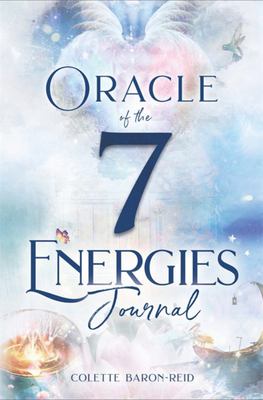 $24.99
AUD
Category: Weird & Wonderful
This companion journal to the Oracle of the 7 Energies card deck gives you space to write, reflect, and create as you dive deeper into the essence of each of the seven energies. Inside of this journal you'll find- Key concepts and themes for each of the seven energies Powerful affirmations for each of the energy centers Thought-provoking journaling questions and writing prompts Creative exploration exercises and activities 21 oracle card spreads Guided meditations for each energy center Magic flows through you from the unseen world into the world you perceive! Use this journal to connect to the magic of the seven energies and to explore how they relate to your life right now. ...Show more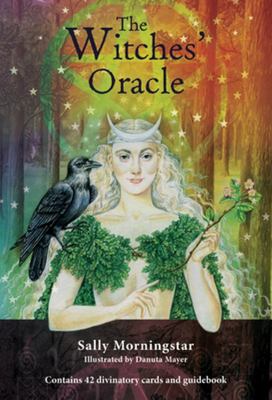 $39.99
AUD
Category: Weird & Wonderful
Develop your hidden intuitive skills and discover Wiccan wisdom with this beautifully illustrated divinatory deck and guidebook pack. Featuring key Wiccan symbols and archetypes, the cards help you connect to a place of deep inner knowledge to find the answers you seek. Each card represents a quality o f energy and carries its own particular meaning in a reading, while "high notes and low notes" offer insight into the possibilities and pitfalls you're likely to encounter on your present course. Including fascinating background on the history of Wicca and the Wiccan festivals through the year, along with a selection of card spreads to address all types of enquiry, The Witches' Oracle will help you develop your intuitive skills and weave magic into your life as you set out on your quest for guidance. Replaces ISBN 978-1-85906-380-4 ...Show more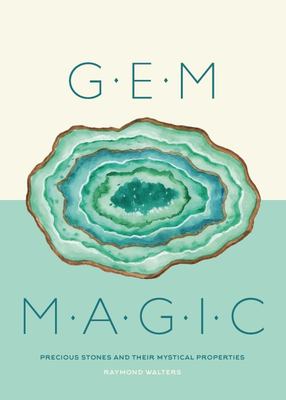 $24.99
AUD
Category: Weird & Wonderful
Gem Magic guides the reader through the uses of and stories surrounding a cornucopia of stones, including how each stone is formed and what beliefs (both occult and scientific) have been associated with it. Precious stones, gems and crystals have been valued throughout history not only for their rarity and expense, but for their mystical properties too. Garnet is rumoured to stimulate the heart, while the pearl offers the protection of the goddess Diana - coral, so-called 'witch-stone', is said to guard against the evil eye, and amethyst is said to prevent drunkenness. Introducing the inherent properties of dazzling selection of gems, gemologist Raymond Walters describes how each stone is formed and its key properties, what beliefs have been associated with them through history and around the world, and both their scientific and occult uses. Famous stones, both real and mythical, are lyrically described - from the infamous Koh-i-Noor diamond to unicorn horn and bezoar. ...Show more