I Suck At Pronouns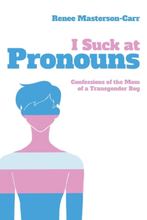 Stock information
: $28

.00

(AUD)

: 9781662413933
: Page Publishing, Incorporated
: Page Publishing, Incorporated
:
: October 2020
: 22.90 cmmm X 15.20 cmmm X 0.30 cmmm
: 28.0
:
: books
: Renee Masterson-Carr
:
:
:
:
: en
: 54
:
9781662413933
Description
I Suck at Pronouns is an account of the journey of a mother of an adolescent tomboy, who threw a monkey wrench in every parenting book. An adorable little girl who grew into a handsome transgender boy on the cusp of physical transition, her son had raised the bar.
The ups and downs, the trials and errors that every mom's faces are amplified when the moments that are considered normal are anything but ordinary. No one ever said parenting was easy, well, maybe they did, but that author did not have a transgender son. Life in a small town is usually no more complicated today than it was thirty years ago-different, yes, but not really problematic as long as you know where to change. But this is no typical life.
The bullying, the questioning, the depression, and anxiety are part of everyday life for a kid growing up in the wrong body. But one thing is for certain. If you have the support and love of your family and friends, you can overcome any obstacle thrown in your way!
Dropped into the realm of a transgender lifestyle, a mother navigates her way around friendships, family, therapists, and pronouns. Maneuvering through a world she originally knew nothing about while supporting her child every step of the way, the author displays her worry as to the best way to approach this new terrain. Did she know what she was doing? Probably not. Did she screw up? Maybe. Did she do her best? I'd say so. Does she love her child unconditionally? Absolutely!
Possibly call this a self-help book in the hopes that it may help the average Joe/Josephine who just wants to know where to begin or would like to be more educated on the subject or at least know that they're not alone.