Assassination Classroom, Vol. 17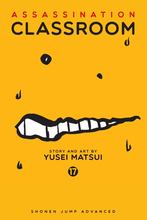 Stock information
: $14

.99

(AUD)

: 9781421590929
: Viz Media
: Viz Media
:
: August 2017
: 191mm X 127mm X 15mm
: 14.99
:
: books
: Sam (CON) Stephen (ILT); Elzway Bryant (ADP); Dutro Tetsuichiro (TRN); Turnage Yusei; Miyaki Matsui
: Assassination Classroom
: Paperback
:
:
: English
: 200
:
9781421590929
Description
Ever caught yourself screaming, "I could just kill that teacher"? What would it take to justify such antisocial behavior and weeks of detention? Especially if he's the best teacher you've ever had? Giving you an "F" on a quiz? Mispronouncing your name during roll call...again? How about blowing up the moon and threatening to do the same to Mother Earth-unless you take him out first?! Plus a reward of a cool 100 million from the Ministry of Defense! Okay, now that you're committed... How are you going to pull this off? What does your pathetic class of misfits have in their arsenal to combat Teach's alien technology, bizarre powers and...tentacles?The class is divided: one half wants to carry on with the plan to assassinate Koro Sensei, while the other half wants to save him. So Koro Sensei splits them into two teams, led by Nagisa and Karma, and has them battle it out. The students of 3-E draw on everything they've learned so far to battle for or against Koro Sensei's life! Then, to uphold their now unified goal, they need to infiltrate the International Space Station...
Author description
Yusei Matsui was born on the last day of January in Saitama Prefecture, Japan. He has been drawing manga since he began elementary school. Some of his favorite manga series are Bobobo-bo Bo-bobo, JoJo's Bizarre Adventure, and Ultimate Muscle. Matsui learned his trade working as an assistant to manga artist Yoshio Sawai, creator of Bobobo-bo Bo-bobo. In 2005, Matsui debuted his original manga Neuro: Supernatural Detective in Weekly Shonen Jump. In 2007, Neuro was adapted into an anime. In 2012, Assassination Classroom began serialization in Weekly Shonen Jump.