Resurrection Inc.: 25th Anniversary Edition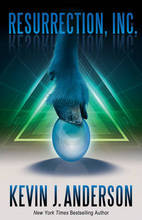 Stock information
: $17

.99

(AUD)

: 9781770412149
: ECW Press,Canada
: ECW Press,Canada
:
: June 2014
: 216mm X 140mm X 25mm
: 17.99
:
: books
: Kevin J. Anderson
:
: Paperback
:
:
:
: 338
:
9781770412149
Description
It is the future - and the dead walk the streets, resurrected by technology to become servants to the living. Resurrection, Inc. found a profitable way to do it: a microprocessor brain, a synthetic heart, artificial blood - and anyone with money could buy a Servant with no mind of its own, trained to obey any command. But for every Servant created, a living worker was out of a job, and suddenly the profits of Resurrection, Inc. became everyone else's loss. Danal is the last hope of the living. He is dead, but he remembers everything.
Reviews
"Not since Fritz Leiber has a writer so skillfully married science fiction to horror and made them both stronger for it. Resurrection, Inc. is as scary as it is thought-provoking--buy it and read it." --The Horror Show "Anderson has done an admirable job of working out the changes in society . . . told with a straightforward style that belies the book's convoluted plot and sub-plots." --Weird Tales "Cleverly twisting two different extrapolations (one in bioengineering, the other in sociology) into a solid science-fictional whole . . . Anderson has done a very credible job of playing all the consequences of his speculations against each other and of giving a fair hearing to all sides of the issues he raises." --Dragon Magazine "This first effort is well plotted and lively in the telling, with an empathy for those lives at the bottom rungs of society."--Publisher's Weekly "Whoa! What a great novel! I enjoyed this one immensely."--The Overlook Connection "Fine descriptive narration . . . not only adds a dimension to the quality of Resurrection, Inc. but makes one await Kevin Anderson's next work with great interest. --Fantasy Commentator "Kevin Anderson's first novel is reminiscent of the type of story that thrived in SF twenty years ago, but which has largely been ignored recently. Hopefully this fine first effort will refocus attention on a very productive vein."--Science Fiction Chronicle "Anderson sends out the various subplots to the four winds, but keeps control of them and brings them back together for the climax quite nicely. He's got a strong sense of dialog and character, and makes the world he's writing about come to life and mean something to you." --Other Realms "In every field of endeavor, good craftsmanship is to be recognized, appreciated, and held out as the standard for others in the field. Kevin J Anderson's Resurrection, Inc. is just such an accomplishment and merits our enthusiastic an
Author description
Kevin J. Anderson is the bestselling science fiction author of over 100 novels. He has written spin-off novels for "Star Wars," DC Comics, "StarCraft," and "The X-Files" and, with Brian Herbert, is the co-author of twelve novels in the Dune universe. His original works include the Saga of Seven Suns series; "Terra Incognita"; "Resurrection, Inc."; "Hopscotch"; and many others. He lives in Colorado.